Log in to the YouLead system panel and go to the Settings -> Facebook -> Forms Lead Ads tab.
Click the "LOGIN BY FACEBOOK" button.

3. You will be redirected to the Facebook login page. Please log in to your Facebook account, which has the necessary permissions to manage the page (fan page).
a. If the client is already logged in (on this device), the following window will appear: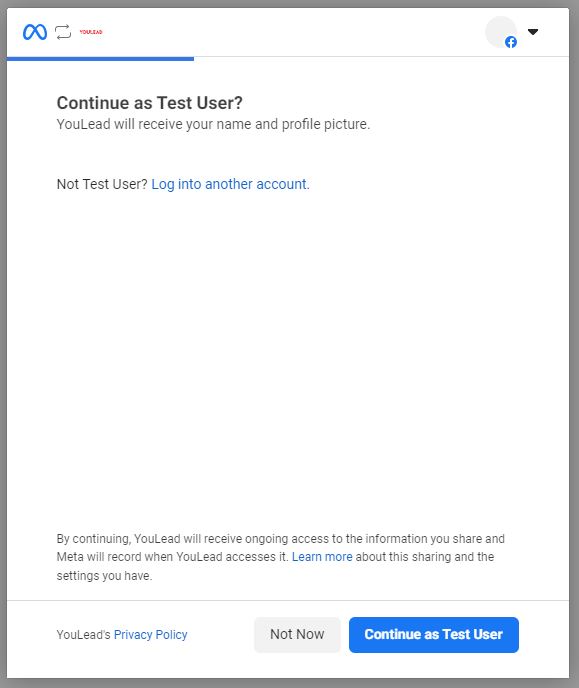 b. If the client is not logged in, the following login window will appear: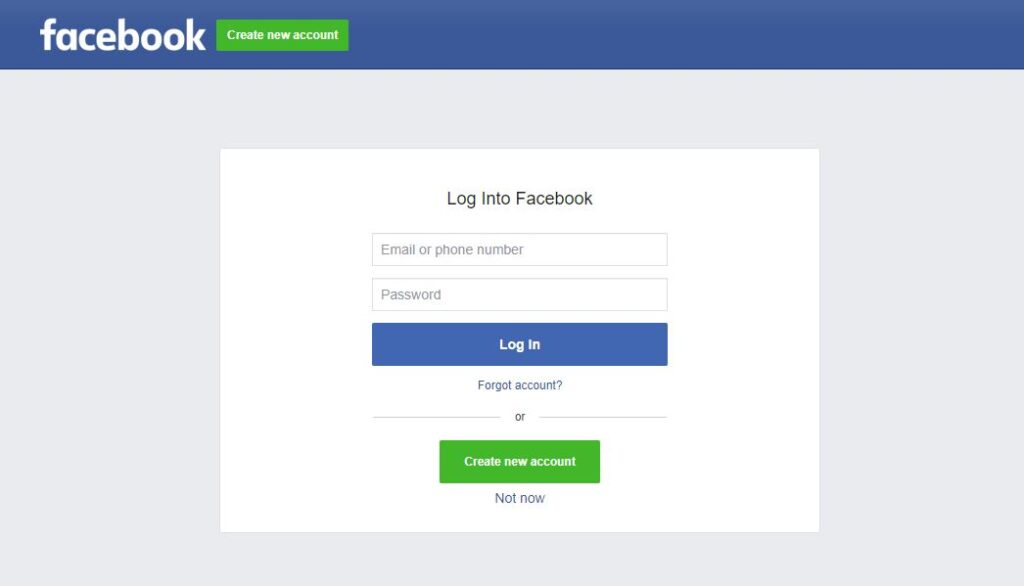 4. Facebook will request you to choose if you want to opt in to all current and future Pages or only for current (selected Pages):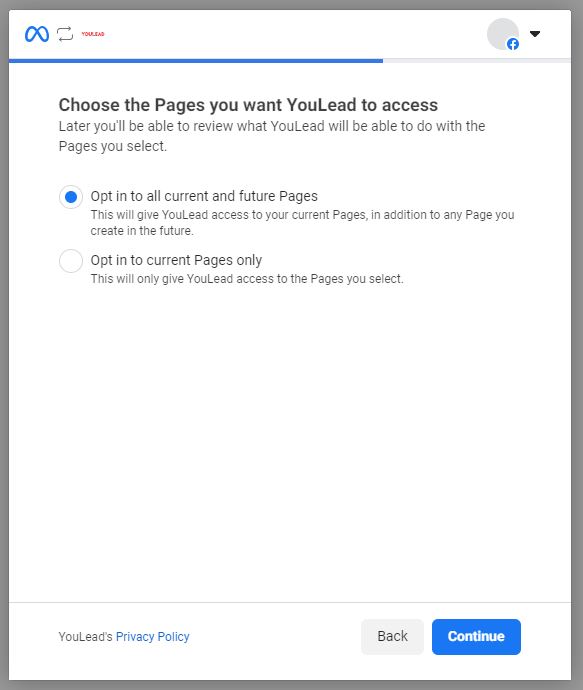 5. If you will select option with only current Pages, you will have possibility to check just some of them: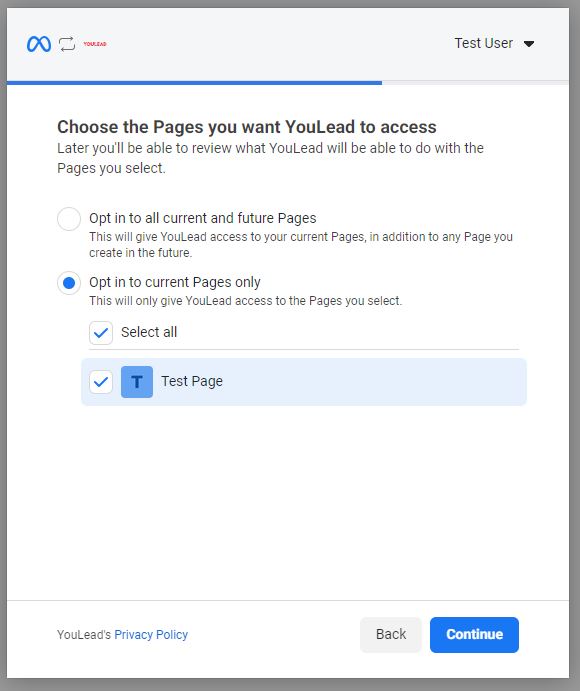 6. In the next step You will see all needed permissions. Please allow all of them.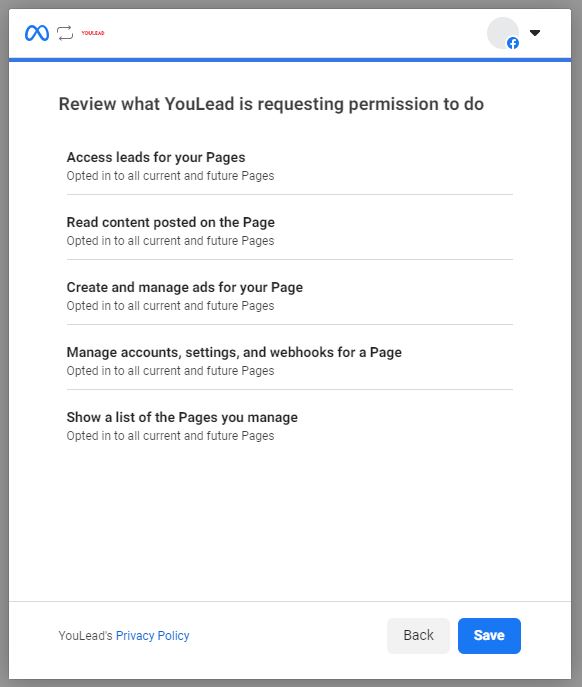 7. A successful connection with the application will result in the following message. After pressing the "Got it" button, you will return to the YouLead system panel.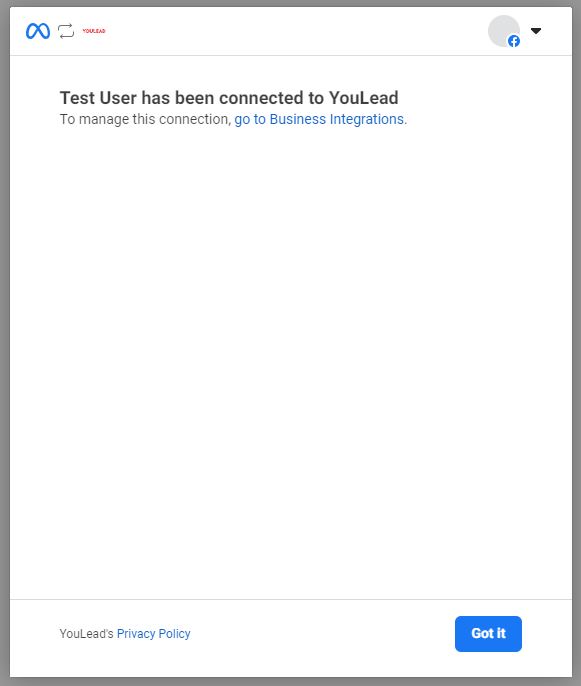 8. The pages that were selected in the previous steps will be available in the dropdown list.

9. After selecting new pages from the dropdown list, confirm your selection by clicking the SAVE button.

10. The integration process has been completed successfully. From now on, all forms filled out for the connected pages will be sent to the YouLead system. Please remember to add rules that will handle the data sent from Facebook correctly.
For new contacts acquired through Facebook Lead Ads, the default email status is set to "to activation", meaning that immediate communication with contacts obtained in this way is not possible. Depending on the marketing consents provided in the Lead Ads form, it is possible to automatically set the status to "active". If the consents given in the form allow communication via email or SMS, you should add the relevant consents in the YL panel (Settings/Consents) and specify which statuses should be set after receiving specific consents.
To correctly map all fields from Lead Ads ads to contact attributes, make sure that the field identifiers in the ads match the attribute aliases in YouLead (Settings/Attributes).
After adding parameters to the form with the names: utm_source, utm_campaign, utm_medium, utm_term, utm_content, the specified values will be passed to YL and recognized as UTMs. If these parameters are not set, the default values will be sent: utm_source=facebook.com, utm_medium=paid.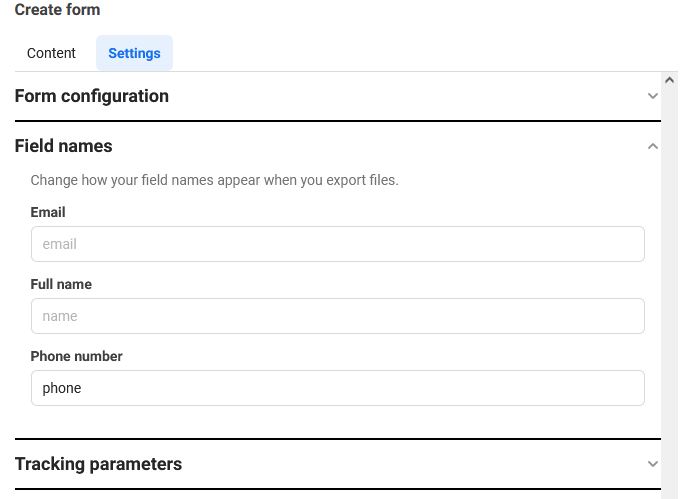 After completing the integration of Facebook Lead Ads ads with YouLead, you can test the correctness of data transmission. To do this, you can use the dedicated tool provided by Facebook:
https://developers.facebook.com/docs/marketing-api/guides/lead-ads/testing-troubleshooting/